Heat Recovery
Heat recovery systems are designed to use the heat in air being extracted from the building to heat fresh air being drawn into the building. The average bathroom full of moist air contains over 600 watts of heat energy. Using a heat exchanger, a heat recovery unit can recover around 92% of this heat, saving cost and carbon emissions.
By installing a Heat Recovery system you are providing filtered fresh air, creating a healthier indoor environment and many other benefits:
Heat recovery and cost savings
Quiet operation
Improved quality of air throughout the building
Reduces heat loss from uncontrolled ventilation
Filtered fresh air improves air quality for asthma and hayfever sufferers
Condensation control
Bespoke design for your individual requirements
Advanced control systems to balance energy usage and air quality
To find out how much you could save click here to request a Free site survey and quotation
Guarantee
All of our products are covered by manufacturer's guarantee and we source the most suitable products for each installation from the best manufacturers across Europe.
How does it work?
Quantum Energy solutions offer a wide range of Heat Recovery Units that can be sited either in the roof space or in a suitable area of the building.
Ducting connects the stale air exhaust grilles to the Heat Recovery Unit. The stale air passes through the heat exchanger which recovers the heat normally lost via trickle vents.
Fresh air is brought into the property via a separate external grille, passes though the heat exchanger and picks up the heat recovered from the stale air.
The warmed fresh air is then ducted to all of the habitable rooms within the building.
Our installation engineers will advise you about the benefits of each system and will advise you of the most suitable system for your requirements.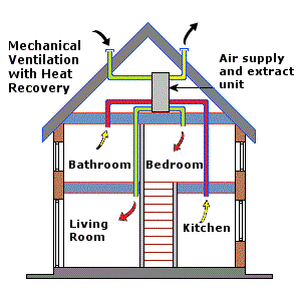 Renewable Energy Solutions