Solar Thermal
Solar Thermal panels are used mainly for heating hot water, but can also be used for generating energy for space heating.
Panels are connected to a solar cylinder that can store water for distribution to the plumbing or heating system.
During the summer months you could expect to heat 100% of your hot water requirements from your solar panels. In winter with fewer daylight hours this would be reduced to around 30%. To supplement your hot water requirements during these periods, heat pump systems or conventional boilers or immersion heaters can be used.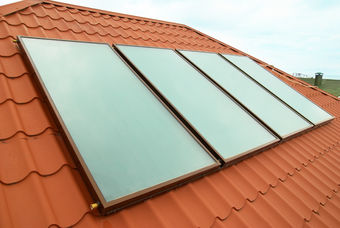 Positioning and system options
For maximum efficiency panels should be located to receive as much light as possible where there are no surrounding buildings or trees to shade or obscure the light from the sun.
Systems can be mounted on the roof, in the roof, on a flat roof and in some cases on the ground.
On Roof Systems
For installation on all types of pitched roof coverings such as tiles, slate and metal corrugated roofs. Ideal for retrofitting to existing roofs, the panels are secured by high quality rails/frames.
In Roof Systems
Panels are integrated into the roof surface to blend in with the surrounding area, usually used on complete roof refurbishments or new build.
Flat Roof Systems
We can supply two types of flat roof installations depending on panel orientation – portrait or landscape.
Ground System
Ideal for open spaces where systems can be installed quickly and easily.
Panel systems
There are two types of panel collection systems:
Flat panel collectors
Evacuated tube collectors
To find out how much you could save click here to request a Free site survey and quotation
Guarantee
All of our products are covered by manufacturer's guarantee and we source the most suitable products for each installation from the best manufacturers across Europe.
Renewable Energy Solutions