Smart Boiler Control
Quantum Energy Systems is an approved installer for products supplied by PassivSystems Ltd.
Save money on your heating and hot water
PassivEnergy Smart Boiler Control is a revolutionary, award-winning energy management service that makes your existing heating and hot water system work better.

It helped our cost-conscious customers reduce energy use by an average of 23%*.
Professionally installed in a couple of hours and designed to work with oil, LPG or standard gas-fired systems, it will put control in your hands and could put money back into your pocket.
Our smart boiler heating and hot water service revolves around the way you live your life. In the past you may have had to guess when you needed the boiler to come on in the morning to make your home more comfortable, and battle with fiddly on/off timers for hot water. Forget all that. Just tell PassivEnergy what you're doing and the system will take care of the rest.
* Statistical saving data from a year long trial between 2010 and 2011 in 25 homes.



Some super powers lie behind our simple touch-screen controls:
Intelligent occupancy:
really simple scheduling to match your lifestyle.
Learning technology:
learns how your house operates and takes weather feeds to keep your house perfectly heated and topped up with hot water.
Anywhere control:
Coming home early? Staying out late? If you have an iPhone©, you can use it to control your home wherever you are.

Occupancy
Almost everything in PassivEnergy revolves around occupancy. When using our system, your home will always be in one of four occupancy states:
In
means there are people at home and that they're awake.
Asleep
means everyone at home is in bed.
Out
means no-one is at home for a while today.
Vacation
means no-one is at home for more than one day.
All you need to do is to tell PassivEnergy where you are.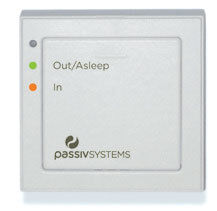 You can set up your home's daily or weekly schedule and PassivEnergy will take care of the rest. If you then come home early one day, or decide to have an early night, you simply tell the system by pressing the
OCCUPANCY
button on your Controller.
If you have purchased the nifty wall-mounted Occupancy Buttons as part of your system, you can press these instead (most likely to be by your bed and/or your front door).



Control in the palm of your hand …wherever you are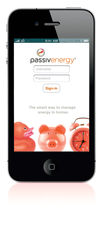 Away from home? The PassivEnergy iPhone app lets you control your heating (and, if you subscribe to the service, your hot water too)
wherever you are.
The PassivEnergy iPhone app lets you remotely:
•
Check and change the temperature of your home.
•
Alter your PassivEnergy Occupancy schedule.
•
Check, set and change vacation settings.
•
Track how warm it is at home.
Please note that your home internet connection must be up and the PassivHub on for the PassivEnergy iPhone app to work.


Note:
Installation and connection of this product should only be carried out by a suitably qualified person.
Tampering with your meter is not only dangerous, but may void your Feed-in Tariff eligibility.
For more information about this system visit
www.passivsystems.claritycreative.net
OR download the
User Guide
Renewable Energy Solutions