Rainwater Harvesting
Water is a precious resource and we are constantly being told to conserve water. Rainwater harvesting systems collect rainwater from the roof of your home via guttering and downpipes, this water is filtered and then stored in a tank. The water collected can then be used to water gardens, wash cars, flush toilets and can even be connected to your washing machine.
Domestic systems could save up to 50% of water usage, saving you money and helping the environment at the same time.
Water tanks can be installed above ground outside the property or below ground and they are suitable for both domestic and commercial use.
The system can provide a direct feed system using a pump in the storage tank or gravity fed using a header tank.
Our installation engineers will advise you about the benefits of each system and will advise you of the most suitable system for your requirements.
To find out how much you could save click here to request a Free site survey and quotation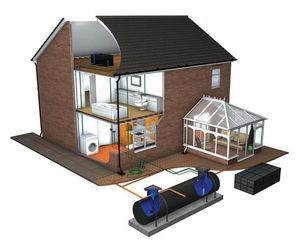 Guarantee
All of our products are covered by manufacturer's guarantee and we source the most suitable products for each installation from the best manufacturers across Europe.
Renewable Energy Solutions