The Green Deal

How the Green Deal and Solar PV Feed-in Tariffs now work together
The Department of Energy and Climate Change (DECC) has produced a document detailing how the two schemes will work together.
The amount of finance available through the Green Deal will depend on how much money a solar PV system will save homeowners on their electricity bills. The Green Deal loan will help to cover some of the cost of the installation.
The following example shows how the Green Deal and FiTs will work.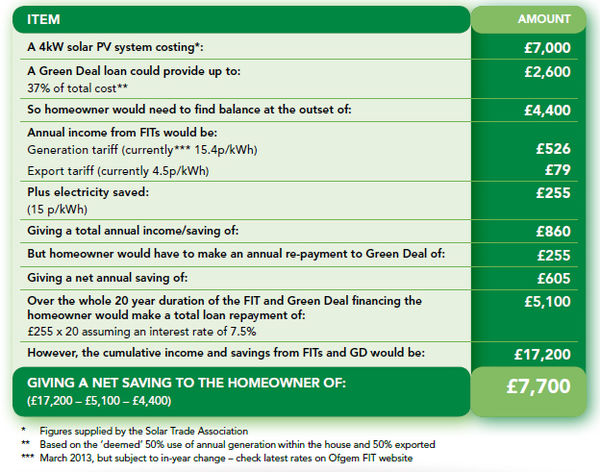 To view the full guide visit:
https://www.gov.uk/government/uploads
Other measures include:
Heating, ventilation and air conditioning



- Condensing boilers
- Heating controls
- Under-floor heating Heat recovery systems
- Mechanical ventilation (non-domestic)
- Flue gas recovery devices

Lighting



- Lighting fittings
- Lighting controls



Water heating



- Innovative hot water systems
- Water efficient taps and showers



Microgeneration



- Ground and air source heat pumps
- Solar thermal
- Solar PV
- Biomass boilers
- Micro-CHP

Building fabric



- Cavity wall insulation
- Loft insulation
- Flat roof insulation
- Internal wall insulation
- External wall insulation
- Draught proofing Floor insulation
- Heating system insulation (cylinder, pipes)
- Energy efficient glazing and doors
For more information on the Green Deal go to
www.decc.gov.uk
To discuss any of these incentives in more detail and to find out how you can apply them to your individual requirements please call to arrange a FREE survey or complete the form on the "Request survey" page.
Renewable Energy Solutions